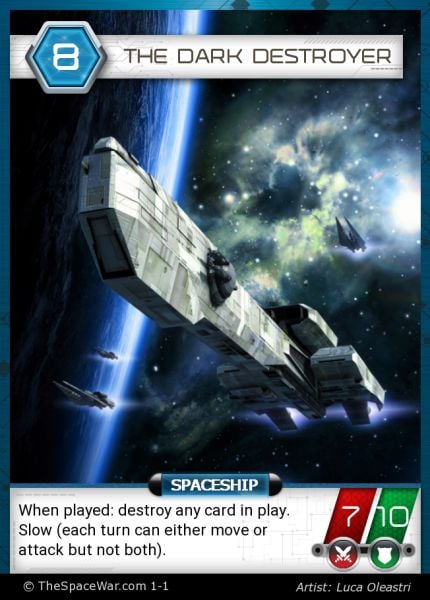 The Space War is a new fast-paced strategic 2 player expandable card game.
Better than Hearthstone? Better than Magic? Hell yeah says the creator.
All cards included for free. More like chess and not a pay-to-win game.
Enter username to play for free directly in your browser:
The game is played the same offline or online in the browser.
---
5 minute intro video
Video Transcript
What is The Space War card game and why do I think it is an amazing game?
Hi I am Jim and I am the creator of this new card game - The Space War.
I have been playing card games on and off the last 25 years - for example Magic, Hearthstone, Dominion, Doomtrooper and many others. I also play a lot of modern board games.
In the summer of 2018 I started working on my own card game which in my opinion is much better than other similar games.
Strategic 2 player card game, around 20-40 minutes to play
All cards included for free
More like chess in the way that both players has access to the same cards - it is not a pay-to-win game.
The game is played the same offline or online
Free to play online in your web browser at thespacewar.com
Print and play offline for free.
Focus on how your play your cards instead of which cards you have
Choose between 3 preset decks or mix the cards to make your own unique deck
Each card can be played in several ways but the game is still simple and smooth to play
Skill based with focus on competitive play, leaderboard on the site.
Player interaction with counters and reactions
Tension and excitement without any runaway leader problem
No booster packs
No grinding
No RNG cards
No dead cards
No resource cards
New interesting game mechanic, I will show you
[ Showing and explaining the new game mechanic that makes this game different than other similar games ]
[ Quick demo of online play ]
[ Quick demo of offline play ]
---
"The way the stations work, allowing you to customize and manipulate your actions, is very, very clever. I also like how it functions as your life meter, meaning there is no need for health counters." - Anonymous Cardboard Edison Award Judge
"Very elegant design with solid core and interesting core mechanics." - Suzanne Zinsli, Cardboard Edison Award Judge
"Card games is a big part of my life and I have played many different games the last 25 years including Magic the Gathering, Hearthstone, Dominion, RftG, Star Realms, Doomtrooper, different classic card games and other CCGs but The Space War is what I enjoy most to play in a 2 player game ... by far. We have more than 60 modern board games and I just asked my 10 year old son what is his favorite game of all time and he answered The Space War without any hesitation. I think the same. We have played the game on a regular basis for 2 years now." - Jim Westergren
External Links
Discord | Facebook Page | Facebook Group | Twitter | BGG | YouTube | Reddit
Latest active players
Alvin

|
Jim

|
Viper3

|
agge

|
davosnake

|
Galactico

|
Hunk

|
Oggygroggy

|
Fabius

|
grgaxray

|
XesLexx

|
TWRWMOM

|
Ahmed

|
Phaedros

|
Luna

|
Rami

|
landty

|
Zakarias2010

|
Woodpecker

|
orlando12345678

|
ShAj

|
VFNova

|
pogopogo

|
yedgyd

|
binbin1603

|
NecroticToaster

|
SilvrHammr

|
Change

|
subetai

|
RedKamel

|
daikageshi

|
Omi

|
sporeprintf

|
yungvenuz

|
EmirFassad

|
Kaah

|
Ciago

|
abdisalami

|
Nazca

|
ebd3456

|
TheZintis

|
d138

|
Matthew

|
KingThrawn

|
Emarie361

|
Inoperable

|
Commodawg

|
Dovic

|
Dhamon

|
Articneko

|
unjugon

|
Jaels

|
Vectix

|
Ippo

|
ObiJeeWyeEn

|
Flashdeath93

|
Caedus

|
Demoniccashew

|
SmushFried

|
tehashi

|
smallestguy

|
Massu

|
Thewog

|
Rithzarian

|
Kisada

|
Hexorder

|
Deadpool420207

|
stabslash

|
Masaru

|
Andy33355